Let the Build Begin!
Chapter 2
In preparation for putting this bike together, I felt that I needed to qualify myself. So for weeks now I've been watching all of the Orange County Chopper shows along with the Biker Buildoff shows. I learned a lot of important details. You must have all the right tools, equipment, parts and most of all, the right attitude.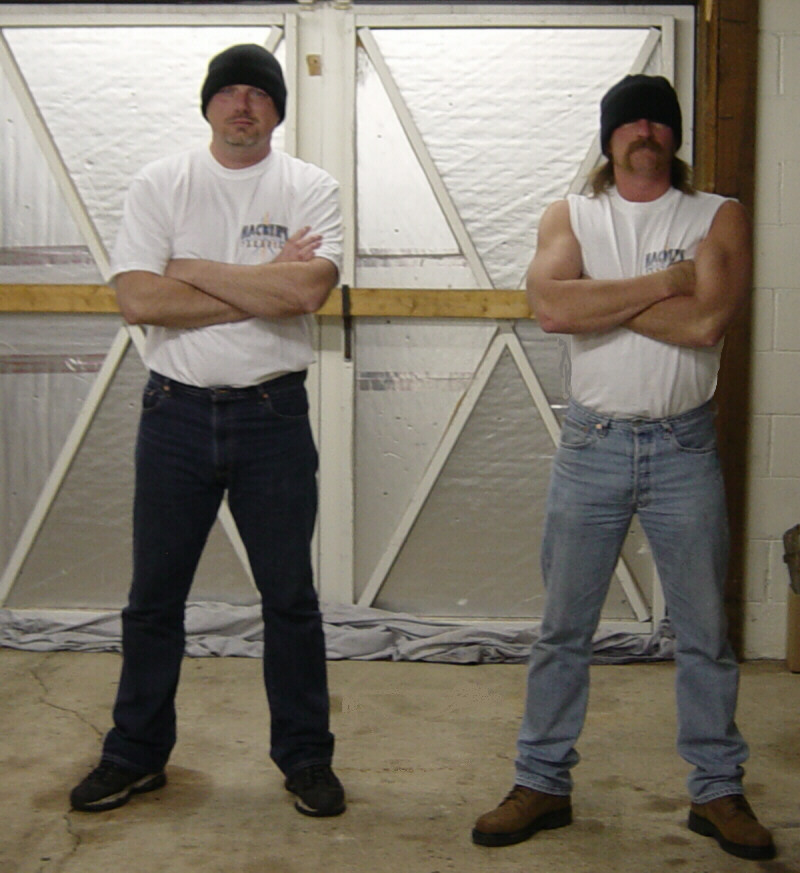 My buddy, Mark Ball and I started with the last one first and adjusted our attitudes, pulled our toboggans down low just like Jesse James and Jimmy Shine, and we were ready to go. Oddly enough, the lower the toboggan, the better the 'tude.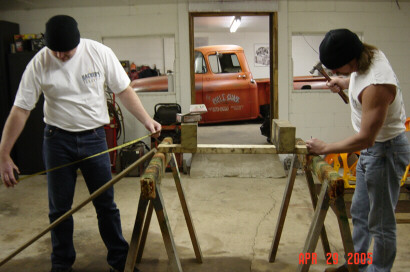 I decided I didn't need an expensive bike lift to build this bike. Since I'm so handy with wood, I thought I would go ahead and build a bike stand. I have two sawhorses that have been in my family for three generations, so I know they're sturdy and the bonus is they have carpet on top so nothing will get scratched.
Here we are putting the finishing touches on my new bike stand.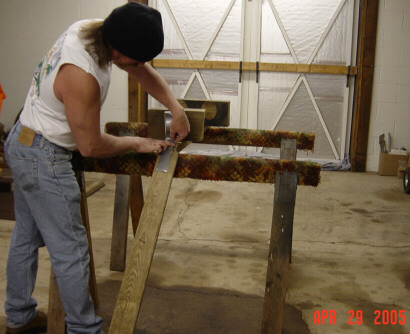 A little duct tape made a smooth transition from the ramp to the stand, so when the wheels are on, the bike will go down smoothly.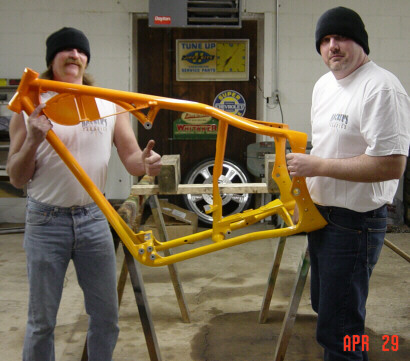 OK Boys! Now we're getting somewhere. This bike building stuff is easy. Once we get the frame on the bike stand it'll be smooth sailing.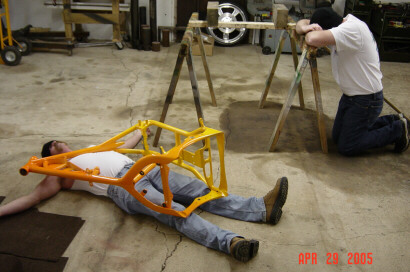 This is where we learned lesson #1. COMMUNICATE with your partner. I'm not sure what went wrong, but when I regained consciousness I realized that luck was on my side because the frame didn't touch the pavement. I took the entire hit. With only two cracked ribs and a bruised kidney, we continued on.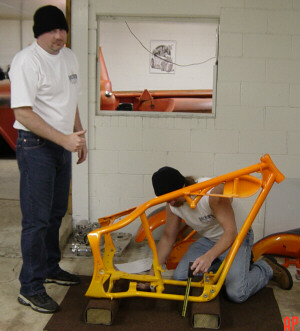 Now this is more like it, only 4" off the ground. Nothing else can go wrong!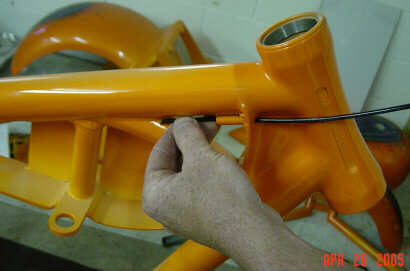 OK Boys! Now we're finally doing something constructive. All my wiring will be run inside the frame rails, so that's the first task. Here I'm starting to feed the first wire through...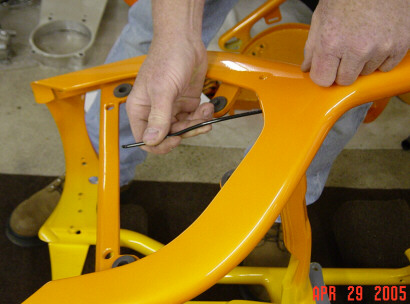 ...and here it is on the other end. This is too easy!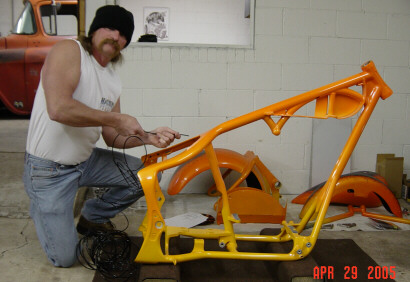 I soon realized it isn't a one-man operation. If you're not careful, you can pull the wire all the way through like I just did (Bonehead!)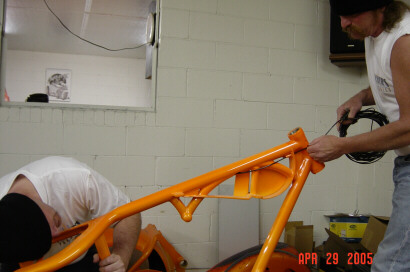 This is when a partner comes in handy. Mark will watch for the wire so I'll know when to stop feeding it through.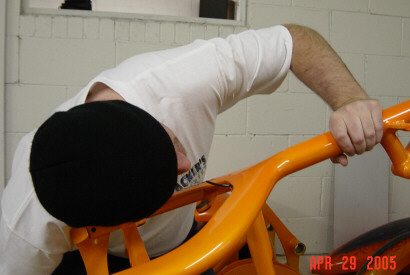 He should be giving me the signal any time now...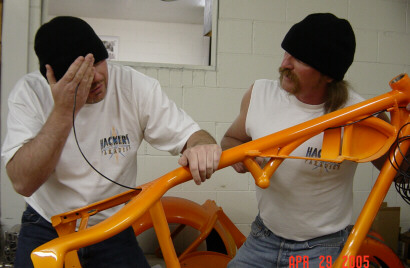 OK Boys! This is when I learned lesson #2. COMMUNICATE with your partner. Have the signals worked out ahead of time to prevent injuries.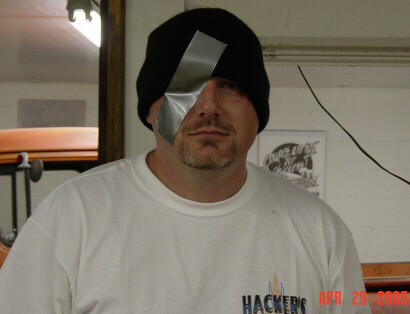 We convinced Mark that we didn't need to call 911. It was only 10 gauge wire. Elaine administered first aid...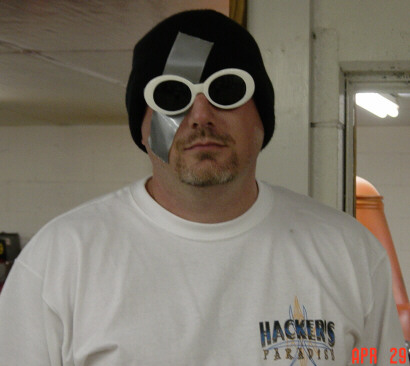 ...then we decided he needed safety glasses. Since I didn't have a spare pare, Elaine loaned him her retro sunglasses.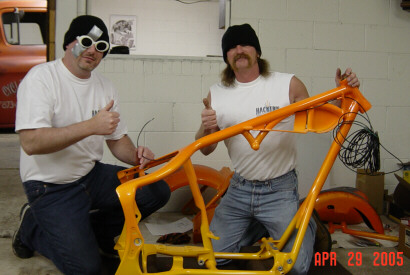 Success at last! We finally got our first wire through the frame. Only eight more to go.
Click here for Chapter 3