1949 Oldsmobile Woody Station Wagon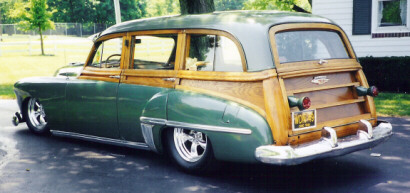 I found this car in, of all places, a car lot in Indiana in 1998. Because of its rough condition, we almost didn't buy it. We finally bought it for two reasons...it was so ugly we felt sorry for it, and the seller made us an offer we couldn't refuse.
It had a 6 cylinder with a 3-speed on the column. I put a set of Fatman Fab drop spindles up front and then installed air ride on all 4 corners. The wheels in this picture are 17x6 on the front and 17x8 on the rear.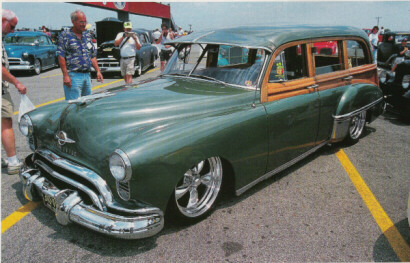 By 1999 I had installed an S-10 front sub-frame along with a 383 ci small block with a home made cross ram and 2-4 bbls and a 700R4 transmission. The wheels were updated to 20x8's with a 295/45/20 rear tire. I moved the rear wheel wells into the frame for tire clearance.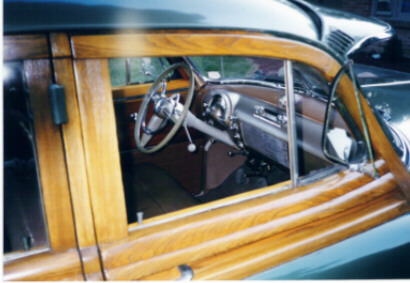 The interior was completely stock. For the air ride controls, I disassembled the factory radio and used the push buttons for the up/down controls. I put the air gauge where the factory clock used to be. This picture shows the shifter on the column, but I eventually put a Locar floor shifter in.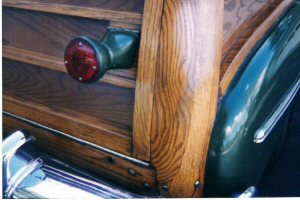 When I bought this car I was forced to learn woodworking fast. I replaced some panels that were rotted and refinished all the wood to match.
We owned this car for 4 years and it drew attention everywhere we went. A young man from Milwaukee bought the car in 2002.