1972 Dodge Demon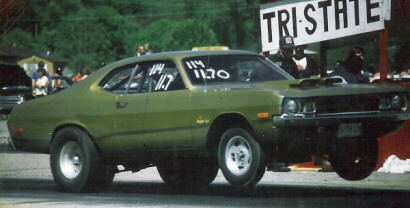 In 1981 I sold the Firebird to a man in Middletown, Ohio who planned to store it on a friend's farm. When we delivered the Firebird to the farm I found this Demon there with 17,000 original miles. It was complete, but it had a broken ring and pinion gear. It had a 340 with a 4-speed and a Dana rear end with ladder bars and 617 gears. Under the stock hood was a tunnel ram and 2 - 660 Holleys. This car had been extensively street raced. Man, this thing hooked hard! The seller said to me, "This car will hook up in a mudd puddle!"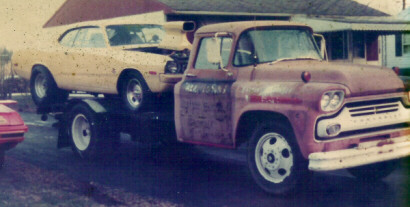 John Tudor painted it Lemon Twist yellow and you can see the Formula 5000 scoop. I sold the open trailer and bought for this "modern" car hauler, a '53 Chevy 1-1/2 ton truck.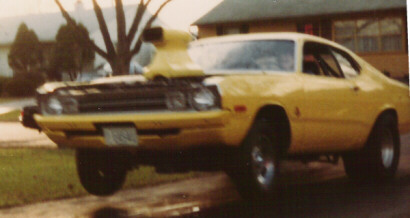 They said it would hook up in a mudd puddle, so wheel stands in my driveway were no problem.

When I refer to my drag racing career, this is the car that comes to mind. For the next 11 years our lives revolved around drag racing, through winning streaks...when I could do no wrong; and losing streaks...to many of those, but it was always fun.

By 1984 the car had gone through several changes including replacing the 4-speed with a torque flight automatic (for consistency), you can see the addition of my graphics and I had replaced the tunnel ram and 2 fours with a single 4 bbl set up. We replaced the old car hauler with this '76 Chevy 1 ton car hauler.
At this point I had an A. Hines Racing Engine built for the car. It ran very consistent 11:50's in the 1/4 mile.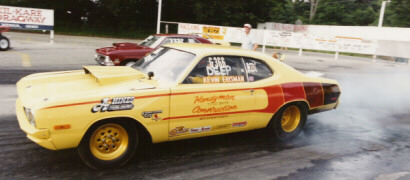 In this shot you'll notice some changes. With the help of another drag racer, Keith Booth, I installed an Alston Engineering front clip, narrowed the rear end and installed a 4-link set up. You'll notice by the hood scoop placement that the motor had been moved back considerably for weight transfer. We also finished out the roll cage and the wheels were painted candy gold for the anodized look. My opponent in this picture is my old friend and rival, Bruce Williamson. At this particular time I was the leader in points in the Pro class at Kil-Kare Dragway, and Bruce was a close second.
Years of wear and tear at the race track had exhausted all my Chrysler parts, so what you can't see in this picture is a 60 over 427 Rat motor, with a roller cam and a tunnel ram with two 750 Holleys, a power glide transmission with an 8" Coen converter. The car ran consistent 10:20's with the best ET of 10:08 at 131 mph. You can see the new paint and new hood scoop. I kept the same color, but left it clean and simple.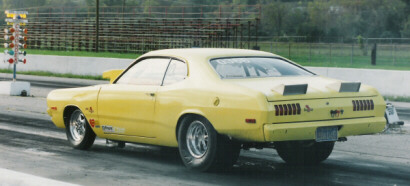 The next series of pictures shows what you get when you combine a new concrete starting line with a perfectly adjusted 4-link set up. These still shots were taken from a video. It was the end of the 1991 racing season and I had the car in primer, ready to repaint over the coming winter.
What goes up must come down! After this run, the track owner came to my trailer and told me I had the wheel stand record. I bent both front fenders and cracked the transmission housing, but...man, was it fun!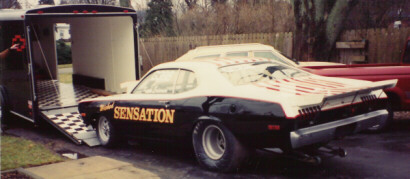 In the spring of 1992 we debuted the car with this new look. The paint was done by Anthony Metcalf of Germantown, and the lettering and stripes were done by Dave Corbin of Yipes Stripes in Englewood.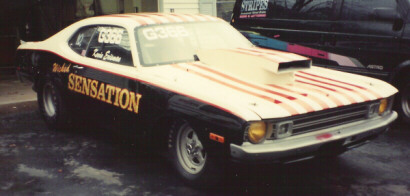 I had the wheels bead blasted and then dull cleared to look like magnesium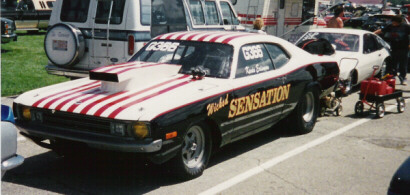 Sitting in the staging lanes at Indy Raceway Park at Super Chevy.

In 1988 we stepped up to this '81 GMC dually and a 28 foot enclosed goose neck trailer.
By the end of the 1992 racing season, Elaine and I were growing tired of the racing scene and, because of NHRA rule changes, it was getting more expensive and just no longer fun. I mentioned to a couple of friends that I was thinking of selling the car and within four hours the motor and transmission were sold. The rolling chassis was sold four days later. We were suddenly out of the racing business and asking ourselves, "What just happened?"
My old Demon is still being raced regularly to this day...the poor ol' girl probably has a million passes on her.