1967 Pontiac Firebird
| | |
| --- | --- |
| | After selling the Camaro body I was searching for another hot rod. I didn't need to look very far. In 1979 I bought this '67 Firebird from my brother-in-law, John Tudor. He had just installed a big block Chevy and 400 turbo trans in the car. |
| This is how you "test drive" a car. This smokey burnout was done in front of my brother-in-law's garage in downtown Germantown. | |

In 1980 John Tudor was the paint and body man in the area, so I had him paint the car this beautiful bronze color. I added a Lunati cam, an aluminum intake, a Holley carburator, a Fairbanks valve body in the transmission and added a 513 gear in the rear, along with a set of 14/32W Firestone slicks on steel Weld wheels. The car ran 12:60's in the 1/4 mile.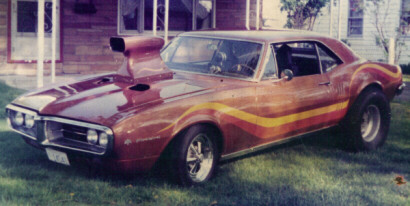 Here I had added a Formula 5000 hood scoop and the orange and yellow graphics...

...and wheelie bars (which it didn't need), you can also see the addition of the fiberglass seats.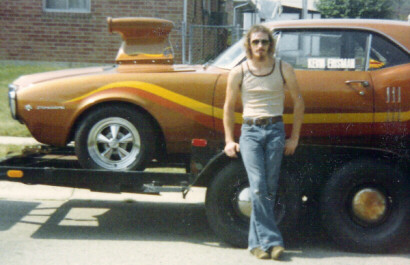 I trailered the car to the racetrack on an open trailer, but at the time we did more street racing. I owned this car for three years and sold it in 1981.