Our Pups
You can't stop by Hacker's Paradise without meeting our pups.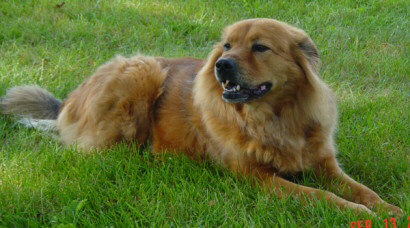 This is Phoenix. She's a Chow/Golden Retriever mix that we rescued from a campground back in 1997 when she was just a lost little pup. She's a real sweetheart and also a pretty tough cookie. As top dog her responsibilities include keeping the two greyhounds in line.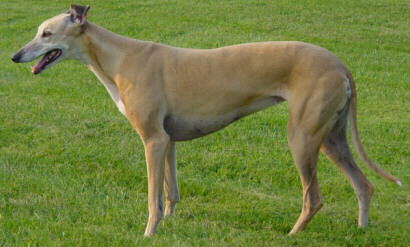 This is Carousal Gal, known here at Hacker's Paradise as Rosie. She was born into the racing industry in August of 1996 and retired from a successful racing career in Florida in October of 2000. We adopted her just a few weeks after retirement. She's pretty laid back and doesn't run too much these days, preferring a soft bed inside. Her hobbies include watching TV and taking naps.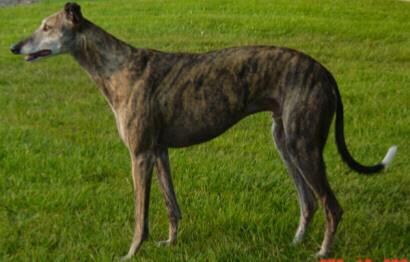 This is Tucson. He also came from the racing industry. He was born in Alabama in September of 1999 and named Orris Onapaw.
We adopted Tucson in June of 2002. He didn't have a racing career because he's what is known as a "spook"...too shy and afraid to race. Although he went through all the training along with the other greyhounds, he just wouldn't leave the starting box when racing day came.

It only took a few days for him to warm up to us, but he's still shy with strangers. He likes to show off by running around the yard when people stop by. You ain't seen nothin' until you've seen a greyhound at full speed.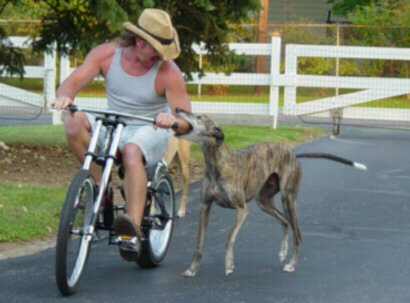 For some reason, Tucson pulls me by the arm when I ride a bicycle.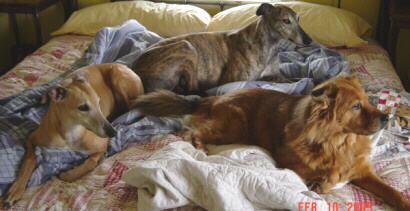 Our three pups have a pretty easy life. Here they are in the comfort of their room where they can keep watch on everything going on outside.