Good Guys Nationals Columbus, Ohio 2007
It's been a while since we added anything to our "events" page. We thought it was time to update it with our weekend trip to the 2007 Good Guys event in Columbus, which turned out to be...well...eventful. We had the opportunity to campaign the 1949 Chevy Suburban owned by customers and good friends, Mike and Jen Bloomer, who recently relocated to St. Pete, Florida. Since this event is only 85 miles away, in past years we have driven up for one day and returned home the same evening. This year, Elaine and I decided to take the Burb to Columbus on Thursday evening and stay all three days of the event. Unfortunately, we made the decision the week before the event so all the hotels near the Crown Plaza (the host hotel) were sold out. No problem, we found a hotel sorta nearby. Here's the thing...just because a hotel is part of a well known chain, it's no guarantee of a decent night's sleep, much less that you will wake up alive the next morning. When I had a "real" job I did equipment inspections and repairs at rendering plants, steel mills and paper mills all over the country...I have stayed in some real shitholes, but never have I stayed in a place like this...and to top it off, my wife was with me and my friend's car was in the parking lot. We should have been tipped off by the hand-written sign in the lobby that read "NO REFUNDS AFTER 15 MINUTES" and by the fact that the hotel clerk was behind iron bars and bullet-proof glass. We were panhandled by residents (yes, residents) of the hotel as we walked to our room. While I watched out the hotel window, I saw three police cruisers drive slowly through the parking lot. Elaine was commenting about the sticky carpet stains and vowing that she would not touch anything in "that bathroom". We made a hasty retreat to the lobby. While Elaine checked us out, I made a couple of quick phone calls (under the watchful eyes of two police officers) to friends Rick Baker and Tim Roberts who were staying at a hotel only a few miles away. Tim handed his cell phone to their hotel clerk who promised she would hold the one remaining room for us...then we sped off to safety. Whew!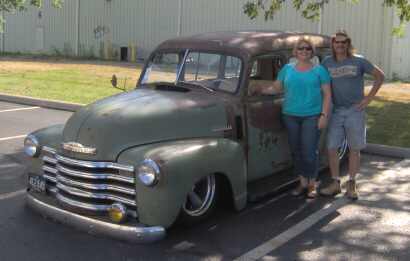 Finally...we had just settled into our room for the night, when I recalled that the air ride compressor on the Suburban had run a little longer than I thought it should. I took a midnight walk to the parking lot to check everything out and deterined all was well with the system. We would by good to go early Friday morning.
When the alarm went off at 5:30 the next morning, we decided to snooze for a few extra minutes, so we got up at 7:30. There were only a few street rods left in the parking lot when we were ready to head for the show. I reached into my pocket for the car keys...no car keys. Just then I spied them DANGLING FROM THE IGNITION! It wasn't bad enough that I left the keys in the ignition...the key was TURNED ON!! The battery was DEAD!!
Elaine said, "We've never been in a jam that you couldn't get us out of."
I told her we could get a jump, if anyone was here, if I had jumper cables, if I could get to the battery. Oh, by the way, the battery is under the passenger floor, under that new floor mat that Mike just meticulously installed. Elaine and I had a brief stare down, then I got some tools and started removing the trim pieces holding down the floor mat.
Just as I got the dead battery exposed, I looked up and saw this rockabilly dude (first guy on the left with his wife "Bettie Page") climb out of a ground floor hotel window. He said he had jumper cables in his wife's 1954 Ford. We gave it a try, but his 6 volt system just couldn't get us going. Another rockabilly dude would climb out of the hotel window at about 10 minute intervals. So when I determined it was time to buy a new battery, the third guy from the right was there and offered to take me to a nearby Advanced Auto in his 1964 Chevy wagon. I bought the biggest baddest assed battery they had and brought it back. Of course it was too big. "Third guy" was kind enough to drive me to the parts store a second time to exchange the battery. These guys were so cool. They were laid back, having a good time and didn't seem to mind that we were holding them up. I finally got the battery in and the car fired up and we were on our way. I can't thank you guys enough...sure wish I new your names. I offered to pay them for their help, but they refused any money. They settled for a blast from the train horns. The moral to the story is "help a fellow rodder in need and it will come back to you."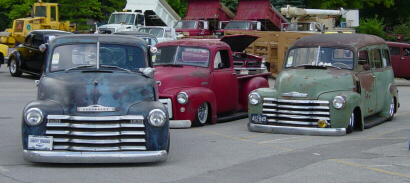 Of course, we were late arriving at the show so I cruised a few laps around the facility and found a parking place off to myself in the back 40 near the excavation equipment! We walked around and checked out some rods and chatted with a few people. When we returned about 2 hours later, we were surrounded by other rat rods. Is it true that rust attracts rust?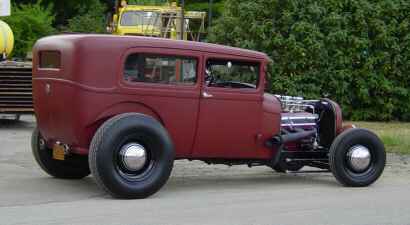 This 1929 Ford Tudor belongs to Tracy and Laura Turner of Indianapolis, Indiana. Tracy is a real "road dog" and drives this car everywhere. He received a Good Guys "top tin" award at the show.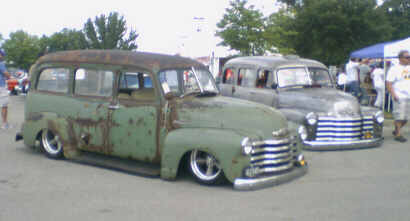 By the end of the day Friday, we moved the Suburban to a more noticeable location... right next to another Burb.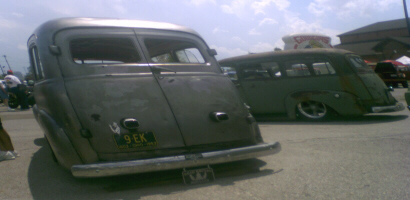 Another view of the two Burbs.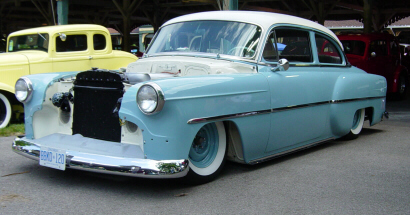 1953 Chevy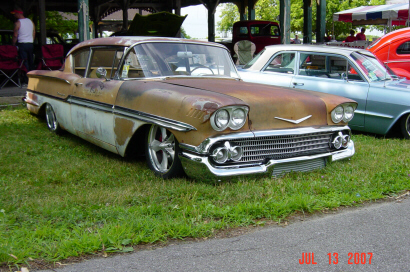 This extremely cool '58 Biscayne belongs to Boris aka "way2lo2" of Cleveland, Ohio. After seeing this car and having exchanged emails with him in the past, I had hoped to meet him in person in Columbus. Unfortunately, we weren't able to connect.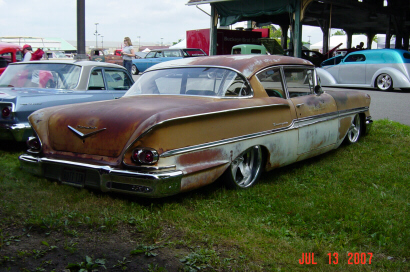 I've heard tell this has a monster motor.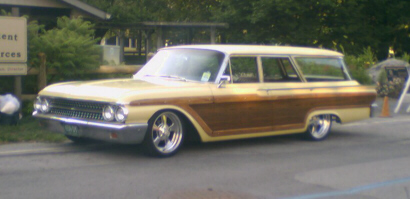 Elaine loves all station wagons, especially those "still in the crate". This was her favorite car at the show.
There were thousands of cars that we hoped to get photos of, but our camera batteries took a shit on us and we forgot to bring the battery charger. Some of these photos were taken with the cell phone.