Custom Chopper Bicycle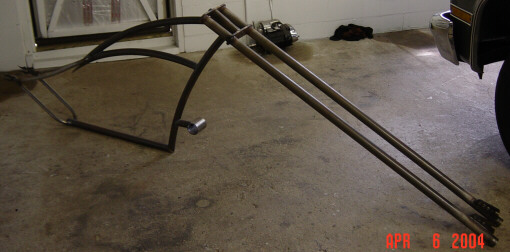 The bare frame and handlebars were made by No Name Customs. The front end was built for another bike by Mark Ball, a good friend of mine. Mark didn't want to sell the front end at first, but I ended up talking him out of it for this project. I changed the rake on the triple trees to correct the rake and trail to make it rideable.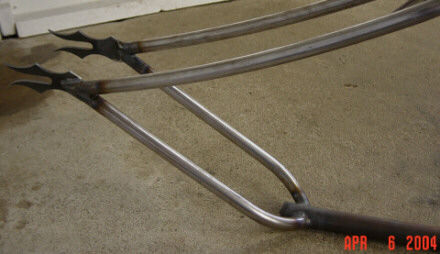 This shows a little of the detail that goes into the No Name Customs frames. The craftsmanship and welding are fantastic!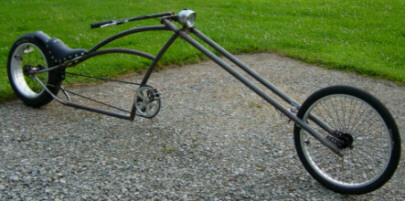 I purchased a Schwinn OCC Stingray and cannibalized all the good parts, including the front and rear wheels, seat and rear fender to add to this bike. It is over 10 feet long and rides like a dream with no front end flop or wobble. I ride it all over Pigeon Forge, TN when we go there for car shows and I sometimes take it to local shows. Oh yeah...I also stole the front headlight from Elaine's 1971 Murray Eliminator.
| | |
| --- | --- |
| | The frame was not originally set up to run this wide rear wheel and tire, so I spread the swing arm to allow for clearance. |
Summer was just around the corner and I had the '63 Meteor project well under way. The chopper motorcycle was nearing completion and everything was under control. That is, until Mark Ball stopped by and asked if I could get the chopper bicycle out of the basement to show to another buddy of his. That's all it took for me to get cranked up about finishing this bicycle.

Some subtle changes you may notice are the lime gold candy paint, and the springer front end. The shift lever that you see is actually a suicide brake set-up.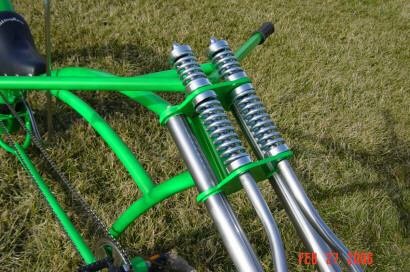 I added brackets to the original chopper front end to accept the chrome "porch swing" springs. The locating cups for the springs are actually freeze plugs for a small block Chevy. I fabricated the downtubes from 3/4" .080 wall tubing.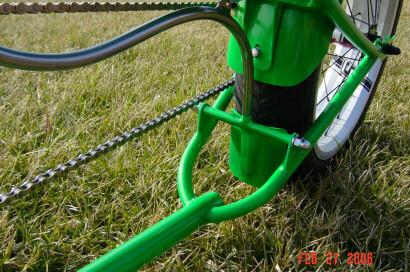 This is a close up of the suicide brake which actually works very well and looks way cool, if I do say so myself!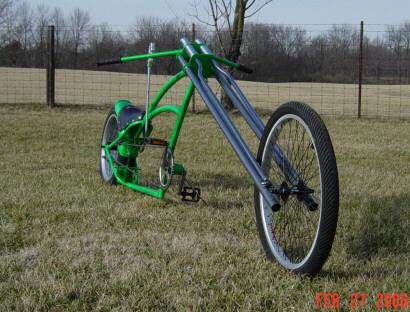 The final things to complete were to have the seat re-upholstered and the aluminum wheels polished. Let's ride!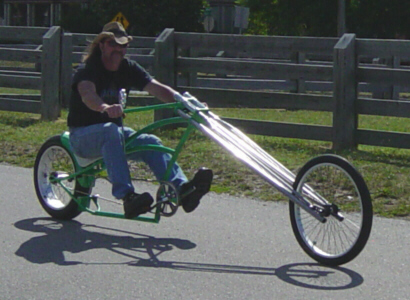 On Saturday, July 21st 2007, Elaine and I got out our bikes and rode them to the Thunder in the Burg event in Miamisburg. Although it was a motorcycle event, I had fun on my chopper bicycle.