1993 Buick Roadmaster Wagon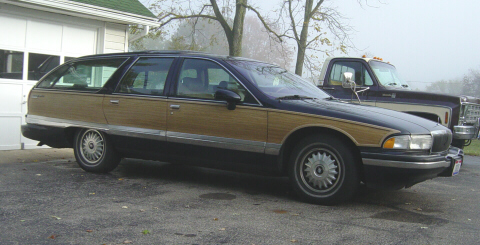 After selling her Lincoln, Elaine wanted another wagon...one big enough for us and 3 large dogs. I found this one-owner Buick in Tampa, Florida. After several conversations with the owner, I flew down and drove it home. This one had everything I was after like the 350 motor and leather interior. Elaine and I had different ideas about the look we were after. I had big inch billet wheels in mind, while Elaine thought big inch steel wheels was the way to go. One thing we agreed on was that the factory wheels and white walls had to go.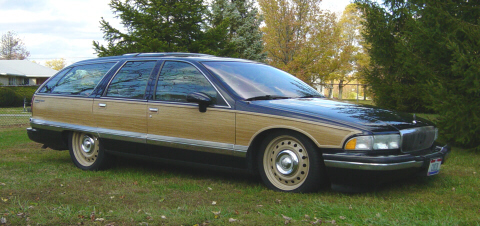 Elaine won out and I agree that this look is more in keeping with the woody theme. I added 2" drop spindles up front and cut one coil out of the stock springs.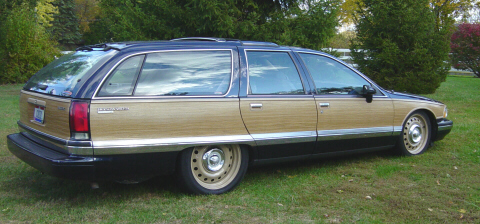 For the rear a set of Bell Tech drop springs did the trick, with KYB gas shocks all around.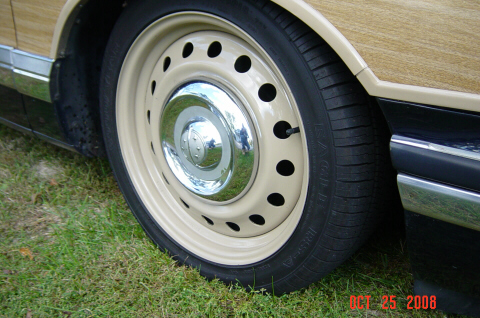 The front wheels are18x7 factory spares from a Ford Explorer with 235/45/18 Goodyear tires. The wheels are painted to match the newly painted trim.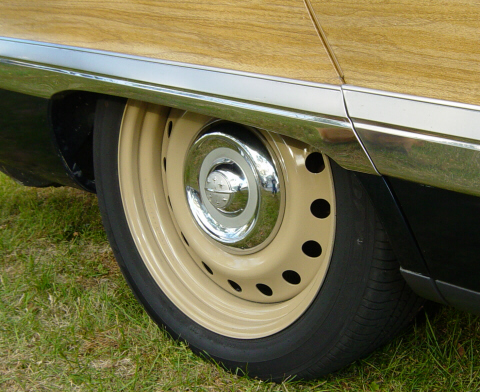 The rear wheels are 20x8 factory spares from a Dodge truck with 245/50/20 Goodyear tires. The poverty caps are 1956 Oldsmobile. These spare wheels are not equipped for hubcaps so I fabbed the mounts.