1991 Oldsmobile Custom Cruiser Station Wagon

In 1999 I bought this car for a daily driver, but it sure didn't look like this. It was white with grey plastic molding along the bottom of the body...ugly, ugly, ugly! The only thing I intended to leave the same was the tan leather interior. The first thing I did was take it to a body shop and had the Laser Red paint job done. Next I put drop spindles and springs up front and drop springs in the rear. The wheels are MK Motorsports 18x8-1/2.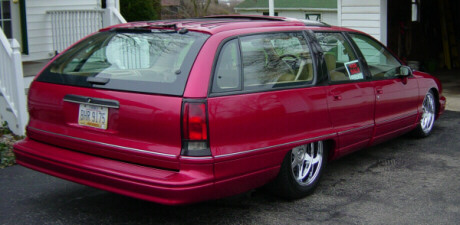 It drove like a dream and was a gas mileage king. We could haul anything we wanted to haul. I sold it in the spring of 2004.