1996 Chevy Astro Van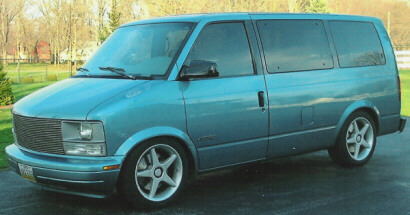 In 1998 I was shopping for another daily driver. Elaine still had the Allante and she thought I should buy an Astro van so we could haul motorcycles, bicycles and our dogs. I couldn't bring myself to drive a van every day so I took the Allante and Elaine got the van.
I lowered it 3" all the way around and installed a set of 18" OZ Monte Carlo wheels. I made a set of 13" diameter fake stainless steel brake rotors to go inside the wheels. I also installed a set of rear air shocks with an on-board compressor to aid in hauling. Once the van was lowered, the motorcycle was very easy to load. We used the van to take the motorcycle to Alabama and Florida on vacation and to many bike shows. The last road trip in this van was to deliver the Harley to its new owner in Las Vegas. We set some land speed records out west (going plaid) thanks to my co-pilot, Mike Bloomer.
We sold it in late 2003 to Scott Sullivan. Scott uses it to haul his own motorcycles.