1955 Buick Super

Elaine and I bought this car in 1992 at an auction in Richmond, Indiana. We went for the sole purpose of buying a Buick and spotted this one as soon as we arrived. Luckily for us, it was the last car to run through the auction and most of the buyers had left. We bought it for a song. In this picture I just removed the springs to get a visual of how the car would look lowered.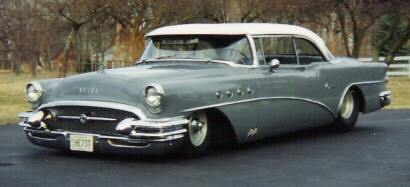 This was the first and last car that I installed a hydraulic system on (it was before air ride was around). I also went a step further and tubbed and narrowed the back half. I moved the rear frame rails in 11 inches on each side, and narrowed the stock rear end complete with enclosed drive shaft set up. In this picture it had Crager Super Trick wheels.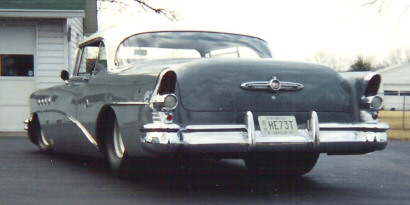 Here you can see the huge Micky Thompson 21.5x33 tires in the rear.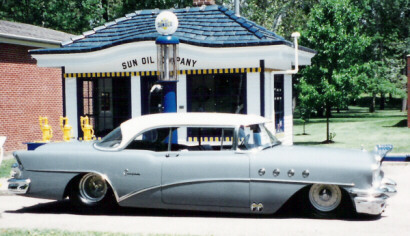 We drove the car to the Grand Run in Pigeon Forge in September of 1993. We intentionally left the title at home so we wouldn't be tempted to sell the car there. But, a man from North Carolina approached us early on Friday morning and stalked us until 2:00 am Saturday morning when we finally agreed to sell him the car. We found ourselves stranded in Tennessee with no transportation and a pocket full of cash. Luckily, we ran into our friend from Germantown, Jon "Toad" Shaffer. We cruised with him all weekend and he brought us back home.
We still regret selling this one. It was a blast to drive and in the early 1990's no one bothered doing anything with a big ol' Buick...we changed that. We drove it everywhere and it received extensive magazine coverage.
This car marked a turning point after many years of drag racing and it was my first attempt at a street machine.