1972 Chevy Pick Up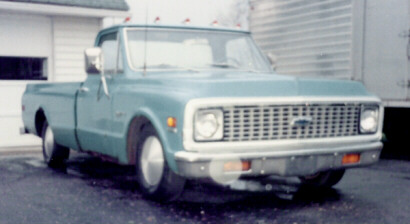 In 1987, I was in need of a cheap daily driver. I bought this '72 Chevy pickup for $300.00. It had a 350 3-speed and was rusted pretty bad. I worked with what I had and installed dual exhaust, lowered it all the way around and added the Moon discs.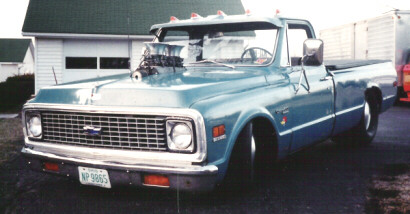 Being a hacker, I couldn't stop there. Next I removed the inner wheel wells from the bed to make room for a set of 15x33 sprint car tires mounted on 15x14 steel wheels. Then I bought a 671 super charger housing and mounted it on top of the factory air cleaner. I built the drive set up for the front and used a real blower belt which ran off the crank shaft. I installed a Pete Jackson noisy gear drive for the whine. The throttle linkage for both carburators was operated by the linkage for the factory 2 bbl. Most people didn't have a clue that the blower was fake.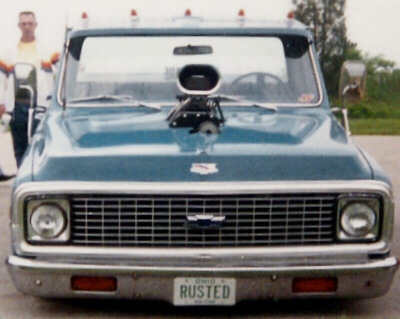 As you can see from this photo this truck was hammered...no air ride or hydraulics here! Also you can see the addition of a BDS blower scoop. I got tired of being asked when the truck would be painted, so I added the personalized license plates "RUSTED". That shut 'em up. This was a rat rod before its time.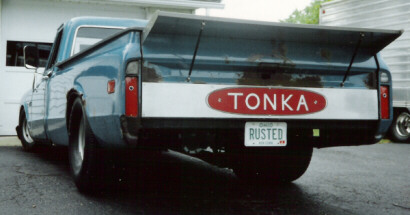 I had a hard bed cover on the truck because there was no bed floor or wheel tubs. I found this "TONKA" sticker in a magazine ad. In 1989 I sold the truck to Pat Crafton of the Rat Pack fame.